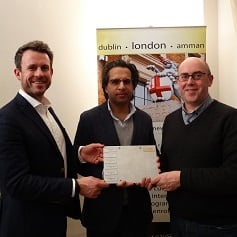 Brennan Jacoby, FIE faculty in Health Care Studies, Cultural Studies, Ethical Leadership, Work-Based Learning, and Business Ethics and Brian Ridgers, FIE senior faculty in English/Writing and Cultural Studies, have been selected as the recipients of FIE's Dr. Rajini Pani Outstanding Faculty Award for 2017 and 2018.
Brennan and Brian were presented with the perpetual plaque that is displayed in the main hallway of Foundation House at the Faculty Awards and Recognition Reception on Friday, 1 December at 5 PM in Foundation House. In addition, they have received a personalised gift specifically chosen for them.
This public acknowledgment of Brennan and Brian allowed the FIE staff, our fall visiting faculty, and our FIE faculty the opportunity to recognise them and thank them for their hard work and consistent effort. Please join us in congratulating Brennan and Brian.