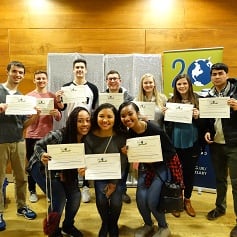 FIE kicked off its 20th Anniversary celebrations with the London Spring 2018 student welcome reception at Imperial College on Friday, January 5th. A photo booth and fingerprint canvas were brought in for the occasion, as well as some exceptional raffle prizes for a lucky few! Students, faculty, and staff enjoyed food and drink while getting to know each other and celebrating 20 years of study abroad.
The Spring 2018 Semester orientation week was a busy one for students and staff alike, but it ended with a bang at our first 20th Anniversary event of the year. The welcome receptions are always fun, but this year FIE pulled out all the stops and added a photobooth and a large 20th Anniversary logo canvas where students could 'make their mark on the world' with their fingerprints. Exhibitors Allis Travel, Host UK, Imperial College Union, Weekend Student Adventures, Wicked Student Nights, Soho Gyms, and Student Switch Off were also present to speak to students about travel opportunities, sustainability, and keeping healthy while spending their semesters in London.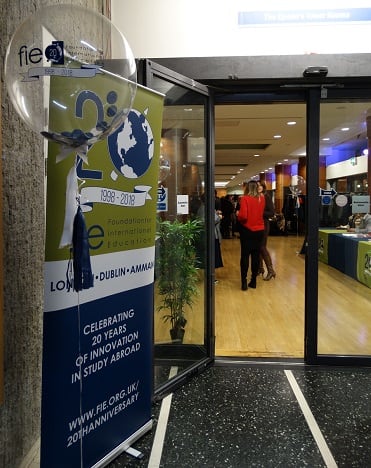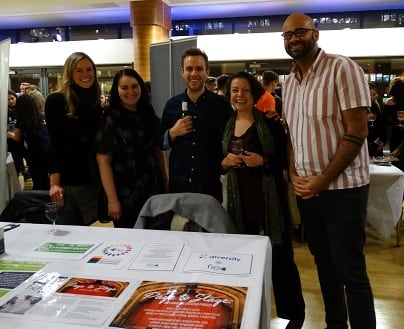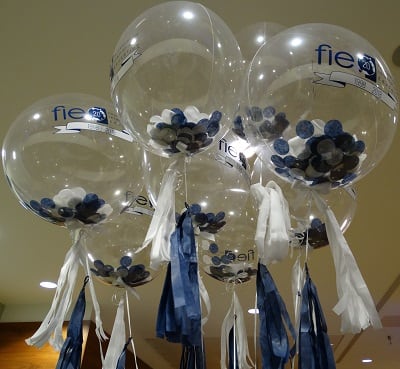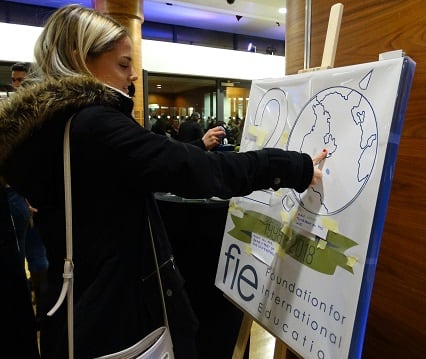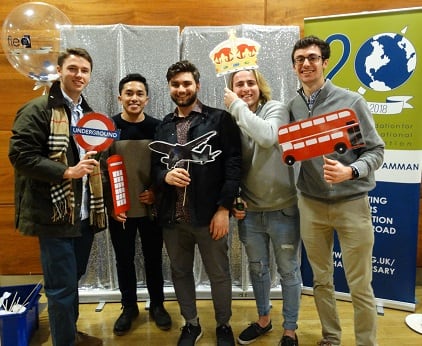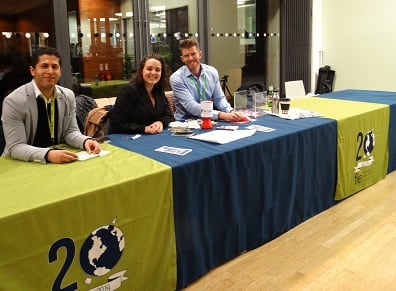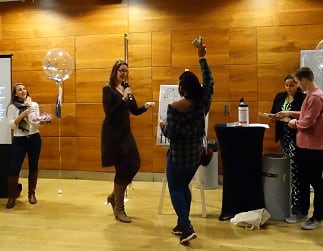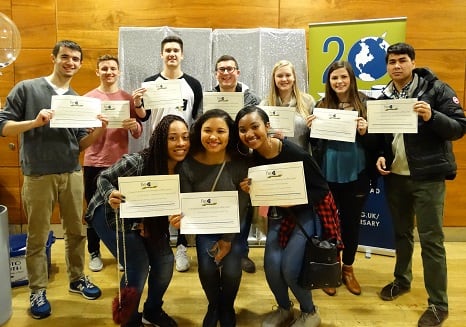 The evening finished with our always popular raffle draw, where our generous exhibitors gifted a few lucky students some very exciting prizes! The winners and their prizes were:
Ashlea Flowers (Temple) 3 day tour of Amsterdam with Allis Travel
Sam Monnat (Wisconsin) 3 day tour of Scottish Highlands – Haggis Travel
Emily Gauger (Wisconsin) & Leanne Habeck (St Norbert) UK Day Trip (x2) with Allis Travel
Bailey Russo (Wisconsin) 3 month gym membership with Soho Gyms
Emma Kaftan (Lewis & Clark) Harry Potter Studio Tour with FIE's Student Life Team
Ben Lowenthal (Temple) & Griffin Cox (Wisconsin) Historical pub walk for 2 (x2) with Allis Travel
Vanessa Gaie (Temple) 5 tickets to any WSN event with Wicked Student Nights
Jacob Berger (Elon) Ben & Jerry's Goody Bag with Student Switch Off
Simone Stancil (Temple) FIE Goody Bag with FIE's Student Life Team
We hope everyone enjoyed the 20th Anniversary edition of our welcome reception, and wish all new students a great semester in London!
---
Since 1998 FIE: Foundation for International Education has grown from a small, one-site operation with thirty students, two partner universities and three full-time staff, to the multi-site operation with 50+ partner universities and colleges we see today. Most importantly we couldn't provide the support to the future world leaders that walk through our doors without the dedication and hard work of our Dublin, London, and US staff and faculty.
Founding Chairman Sharif Rahman's vision for FIE lives on, with our articulated values of Sustainability, Diversity & Inclusivity, and Social Justice at the heart of our organization.
The Twentieth Anniversary Task Force has been working to make sure 2018 is a special year for us all. We look forward to celebrating again in March at the Forum On Education Abroad Annual Conference in Boston, MA.