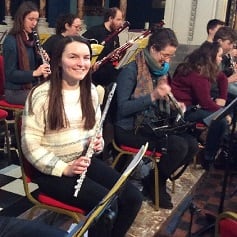 University of Wisconsin student and flautist Emma Bruland joined Orchestra Vitae on March 2, 2018 to perform 'Americana 18' at St. John's Smith Square. It was a very snowy evening in London, but plenty braved the elements to attend this great concert of music reminding us all of a country that has produced some of the most distinctive and memorable musical traditions, composers and conductors.
FIE's partnership with Orchestra Vitae goes back six years when it was first formed. As FIE Senior Vice President - Operations John Pearson wrote in the concert program,
"The Foundation for International Education (FIE) is a proud sponsor of Orchestra Vitae and has been since the orchestra's first concert. As educators, we see the significant value the Orchestra brings to people from all backgrounds and how the work they do can, and does, impact young people. FIE has been fortunate to have the Orchestra participate in educational projects like FIE's Student Global Leadership Conference, where we examined and debated the idea of the orchestral conductor as a metaphor for leadership and discipline. Student conference delegates have cited these sessions as transformative. Orchestra Vitae aspires to reinterpret the legacy of classical music and, just as stimulatingly, to look forward and champion modern-day composers in the making. Their endeavour in this regard is inspirational and FIE is honoured by our association."
Orchestra Vitae regularly perform at FIE events, and often have musical FIE students perform with them as guest musicians. Emma Bruland was very excited to join the Orchestra for this concert, giving her a great opportunity to continue her flute performance skills during her study abroad experience. She described her work with Orchestra Vitae as one of her favorite things she's participated in so far in London, and was kind enough to do a full interview about this adventure:
FIE: When did you begin playing the flute?
EB: I began playing flute in my school concert band when I was 11 years old, but I didn't take it seriously until I was about 14. Then I actually practiced every day, took private lessons, and participated in state competitions until I went to university.
FIE: How often do you perform?
EB: Although I love playing flute, I am not studying music at university, so I do not perform nearly as much as I used to. I do play on the side in University Band at UW- Madison. It's a concert band made up of students with varying majors that performs twice each term. I also play in the pit orchestra for a community choir back in my hometown once or twice a year. It's a fun excuse to reconnect with fellow musicians from back home, and it gives me more performance experience, which is always good!
FIE: How did you find out about Orchestra Vitae, and then get involved in the performance?
EB: Back in December before I left for London, I was exploring FIE's website and came across a "Cultural Immersion" section. This is where I first heard of the opportunity to rehearse alongside Orchestra Vitae while they prepared for their concert in March. I emailed the orchestra's manager, Fiona, and she responded right away giving me all of the details.
FIE: Did you think this would be a part of your study abroad experience before leaving, or was it a surprise opportunity?
EB: When I discovered the concert was going to take place over my Spring break while abroad, I didn't think I would be able to participate in it. But my plans changed, and so I was very happy when Fiona emailed me a couple of weeks before the concert to check in. I didn't quite realize that the opportunity to rehearse alongside the orchestra meant performing alongside them in the concert as well, so that was a bit of a surprise! I have never performed with any professional band or orchestra before, so that was a great surprise!
FIE: When did you start rehearsing with them, and what was the process like?
EB: The Sunday evening before the concert was our first rehearsal. Then we had a short rehearsal the evening before the concert, and one more on the day of the concert. The first day was intimidating because flute is a hobby of mine, and there I was looking at these pieces of music for the first time just days before a concert surrounded by professional musicians. But everyone was incredibly kind, and whenever we had a break, there were tea and biscuits waiting for us. Of course I went home and practiced Monday through Thursday so I wouldn't be kicked out of the concert! But in the end, the conductor (Michael) and Fiona were so nice. They made sure I had a flute rented for me and all of the correct music. The other flute players there helped me out a lot as well. Then on Friday during rehearsal it was snowing so bad we weren't sure if the concert would go on. All I could think was, "Please don't let it get cancelled! I've practiced so hard for this and want to perform!" Instead of being cancelled, the concert got shortened, so we didn't play the Sierra and only played half of the Copland. The audience turnout was actually quite nice, and it was still extremely fun!
FIE:What did you think of the Americana '18 music choices? Had you played any before?
EB: I loved the music choices! One of the fellow orchestra members even commented, "Oh you must feel right at home, huh?" I hadn't played those specific pieces before, but I did just play a different Gershwin piece in University Band at UW- Madison last Spring, so it was very fun to revisit him. I'm also familiar with Copland's Symphony No. 3, especially the last movement. It's one of my dad's favorite pieces, so I had a blast learning it!
FIE: Would you encourage other students to explore this opportunity?
EB: I would absolutely encourage other students to explore this opportunity! Playing with Orchestra Vitae was hands down the best opportunity I have had while studying abroad. It really did feel like "cultural immersion" at its finest. I met others who have a strong passion for music, whether that be through performing or teaching or freelancing. Many of the members of Orchestra Vitae knew each other before joining the ensemble, so it felt like such a family. I was welcomed in with open arms, and they guided me through the entire experience. After each concert, it's tradition to visit a pub across the way, so I was ushered on over and got to continue meeting people that way as well. Being able to take part in an Orchestra Vitae performance is an experience I will never forget, and I will definitely cherish the memories made from the week.
You can view the full Americana '18 program here: