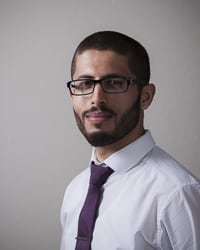 A graduate in Sport and Exercise Science, Louie is a passionate sportsman. He has been playing football since the age of 7 and had his first coaching badge at the age of 16. Since then, Louie has set up his own youth football team and has been coaching and competing in various tournaments in the UK and Europe.
Louie also has a strong passion for cycling and has cycled the infamous London to Paris route twice, as well as other local tours and competitions.
Louie began working with FIE in 2014 as an Emergency Staff with the Facilities Support Team covering the front desk at Metrogate. Since joining the Administration team, his responsibilities include the management of FIE's feedback procedures, overseeing and developing FIE's Virtual Learning Environment, and advising on e-learning strategy and development.
Administrative Coordinator
This email address is being protected from spambots. You need JavaScript enabled to view it.