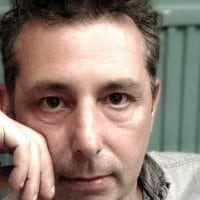 After gaining a degree in Politics at Southampton University in 1994, Mark trained at the London College of Printing in Graphic Design. After a period in two companies, where he implemented new technology in graphic design, he started his own agency in 1992. Within a few years, his focus was on building websites for the emerging internet. In addition to the websites, he developed a number of specialisms in digital marketing and media, working for a range of brand clients. In 2003, he changed the business direction to focus on the emerging media channel developing both software applications and delivering campaigns for brand and advertising agency clients.
Since 2005, Mark has been lecturing in mobile, social and digital media for both professional and academic institutions. In 2011 he was invited to write a masters course in digital media for Birmingham City University. Following the validation process the Future Media Masters course was launched in 2012, for which he is a Senior Lecturer. Since 2011 Mark shifted his work focus to consulting and brand strategy. In this role he works for both brands and advertising agencies, developing high level digital media strategies for global brands. In addition he is a regular conference speaker delivering keynotes on his subject in the UK and abroad.
Outside of his professional interests, Mark has a number of cultural passions, particularly music, visual arts, design, architecture and film. He is a very active scuba diver, regularly diving in the UK, instructing at a London club and he is a keen underwater photographer. Mark spends much of his time off in the southern French town of Collioure or in Paris.
Media Studies, Cultural Studies, Work-based Learning