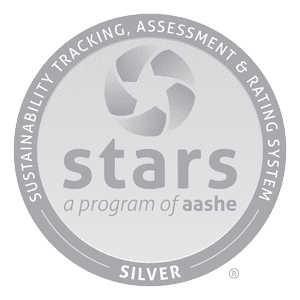 We are humbled and honored to have received a Silver rating by the Association for the Advancement for Sustainability in Higher Education (AASHE) through its Sustainability Tracking, Assessment & Rating System (STARS). This recognition is a significant indicator of the quality of FIE's delivery on Sustainability, one of our core values. FIE is the only non-university or degree granting institution (from hundreds of participants) to be awarded this accreditation.
FIE is one of only a handful of non USA/Canada institutions to be recognized in this way(alongside the likes of University of Edinburgh and University of Greenwich). We are proud to be in such esteemed company alongside many of our partner institutions. It is rewarding to share our values with so many of the colleges and universities that we work with.
We hope that you continue to think of FIE and sustainability interchangeably as we continue to build on our commitment to the environment in all ways including student engagement, academics, internship provision, and residence life.
The application metrics for this certification was complex and exacting, and the process has occupied much of FIE's Sustainability Action Group (StAG) over the last year. All of our StAG members were wholeheartedly committed to this accreditation process but a few deserve a special commendation including: Neena Agnish, Mieke Berg, Havina Georgieva, Deanna Gouros, Hannah Feakes and Jacquie Patton.
Read more about FIE's Sustainability initiatives: www.fie.org.uk/sustainability