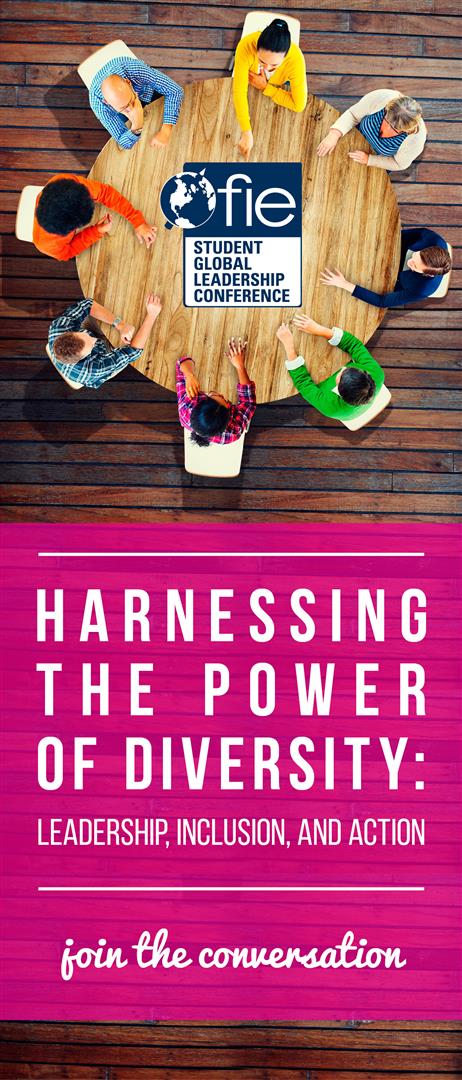 2017 FIE STUDENT GLOBAL LEADERSHIP CONFERENCE

Friday: Royal Geographical Society
Saturday: Baden Powell House
South Kensington, London, England UK
Harnessing the Power of Diversity: Leadership, Inclusion, and Action
Extending far beyond just our visible differences or the 'flags, food and festivals' of our nations, diversity yields superior outcomes. Research shows groups that include a range of perspectives and experiences outperform groups of like-minded experts. FIE's third Student Global Leadership Conference will empower emerging leaders to engage in inclusive leadership, value diverse contributions, challenge bias and build stronger local and global teams, businesses and communities as a result.
---
The conference is designed for:
Current student leaders in undergraduate or graduate programs

Undergraduate or graduate students who wish to learn more about leadership

Anyone seeking inspiration and motivation from diverse leaders
About the conference:
Engaging keynote and breakout sessions offer hands-on, interactive topics featuring unique stories and experiences.

Sessions focus on giving participants practical examples and take-away tools for real-world implementation.

The conference workbook provides participants a 'study guide' to use throughout the weekend.

Programming presents aspects of leadership relevant to students currently studying abroad as well as UK students.

Attendees will be invited to join the conference Facebook event which will provide pre-conference updates and post-conference networking opportunities.

Presentations will be available online after the conference.
---
REGISTRATION NOW OPEN! EARLYBIRD PRICES END JANUARY 31, 2017!

---
FEATURED SPEAKERS
SGLC 2017 Keynote Speakers
Michael A. Genovese, PhD
President, World Policy Institute at Loyola Marymount University
Timothy Kane
Associate Director for Inclusion Initiatives, George Washington University
Carol Madison-Graham
Carnegie UK Trust, Vice Chair
SGLC 2017 Panellists
Dana D'Angelo
Full Clinical Professor and Associate Director for Faculty Development, Drexel University
Humera Khan
Freelance Consultant and Researcher on Muslim Affairs
Mirela Sula
Entrepreneur, Author, and Speaker
---
HIGHLIGHTS FROM PREVIOUS CONFERENCES
2015 Conference Programme & Workbook
2015 / 2013 Conference Photos & Videos