| | | |
| --- | --- | --- |
| | | FIE: Foundation for International Education welcomes and encourages veterans to study with us in Dublin, London, and Amman. Study abroad helps you grow academically, professionally, and personally, building on your existing life experiences and maturity. FIE empowers you to take your proven work ethic, unique talents, background, and experiences to become a successful global leader. |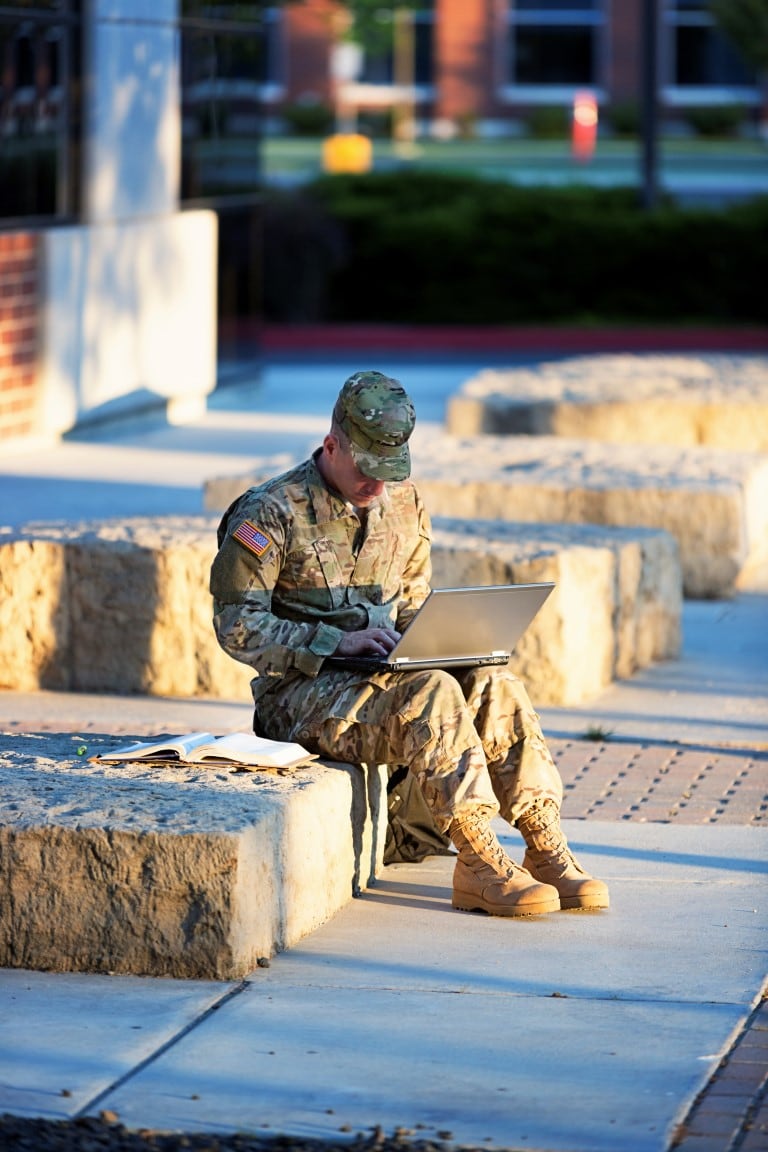 As a veteran, you have already demonstrated your commitment to representing the United States overseas. Did you know that you might be eligible to use federal GI Bill benefits to help fund a semester, summer, or even a full year abroad? If you are interested in studying abroad, begin your plans today as it will take time for you to work through the various steps necessary for you to access all the benefits to which you are entitled.
POST 9/11 GI BILL (CHAPTER 33) BASICS
Established in 2008 to 100% fund a public, four-year undergraduate degree for veterans who have served active duty for 3+ years. (Please note that any amounts payable are reduced if you are not eligible at the 100% payment tier)

Created to augment aid for textbooks, housing, and costlier institutions in hopes of increasing the number of veterans with undergraduate degrees

Established direct payment of benefits to institutions

Allows veterans to transfer benefits to spouse or children after 10+ years of active duty

The Yellow Ribbon Program is designed to help veterans attend private, graduate, and non-resident public schools through aid matching
---
STEP-BY-STEP PROCESS
If you have one, Visit the Veterans Center on your campus

Every campus has a VA School Certifying Official (SCO) often in the Registrar's Office. Identify who this person is, especially if your campus doesn't have a Veterans Center and Speak to him/her to determine whether or not you are eligible to receive funding for study abroad

If you have concerns with what you are advised by you SCO then speak to your state's Education Liaison Representative (ELR) in your regional VA Office

Research various FIE study abroad program options and determine what you believe is the best program for you

Meet with the Study Abroad Advisor on your campus to help decide the best FIE program for you

You need to enroll in home school courses for graduation and be charged tuition and academic fees by your home campus

Request a cost breakdown of tuition, housing, and associated fees that you can then submit to your School Certifying Official. (Remember that the VA cannot pay any fees specific to studying abroad unless you are required to study abroad as part of your degree program)

FIE will bill your home campus student account for tuition/academic fees and housing fees. The VA can then pay your home school tuition amount to your campus account and your home school pays FIE this academic fee

VA can provide you with a monthly cost of living/housing allowance based on your home campus ZIP Code that you pay to FIE. (Again, the housing stipend is based on the percentage the amount of time the military member served on active duty)

If you plan to use your housing stipend to continue to pay your current lease please understand that you will still need to pay for FIE housing

VA can provide you with a books and supplies stipend (but cannot pay costs related to airfare and meals)

You are responsible for covering the other fees either out-of-pocket or via scholarships (also see below)

Meet with your academic advisor: The courses you take while on an FIE program must contribute to your degree attainment (electives count). Ensure your advisor connects with your SCO and Study Abroad Office staff

Enroll in home school courses so that your FIE courses, hours, and grades transfer back

Follow up with your SCO to ensure that your VA benefits will work with the FIE program you have chosen. Remember that the VA will only pay towards the maximum in-state cost of attendance and they cannot pay FIE directly

Apply to your chosen study abroad program with FIE

If you have any disability academic accommodations, be sure to Meet with your Disability Services Advisor on your home campus to coordinate academic accommodations while on the FIE program

Continue to check in with your Study Abroad Office and SCO/Veterans Center to ensure that the necessary information is being transmitted between offices

The process on the VA side must be completed at least two weeks prior to your departure. For example, if your study abroad experience crosses over a given month while overseas then your housing allowance can be affected

Benefits will not be available until you have been "certified". Sometimes certification can happen after you go abroad and reimbursement may be an option. This is not the preferable approach

Since your GI Bill benefits will be distributed after the start of your FIE program be sure to Contact This email address is being protected from spambots. You need JavaScript enabled to view it. to complete a Deferment of Aid form
We encourage you to contact This email address is being protected from spambots. You need JavaScript enabled to view it. if you need any assistance in connecting or working with your on-campus resources.
---
FIE SUPPORT FOR VETERANS
Dedicated support staff in the US and London
Single rooms available based on age and life experience
Counseling support for veterans and military-connected students
Remember, you should also apply for an FIE Sharif Rahman Scholarship to cover additional study abroad costs using the Diversity and Inclusivity Pathway and self-identify as a veteran.