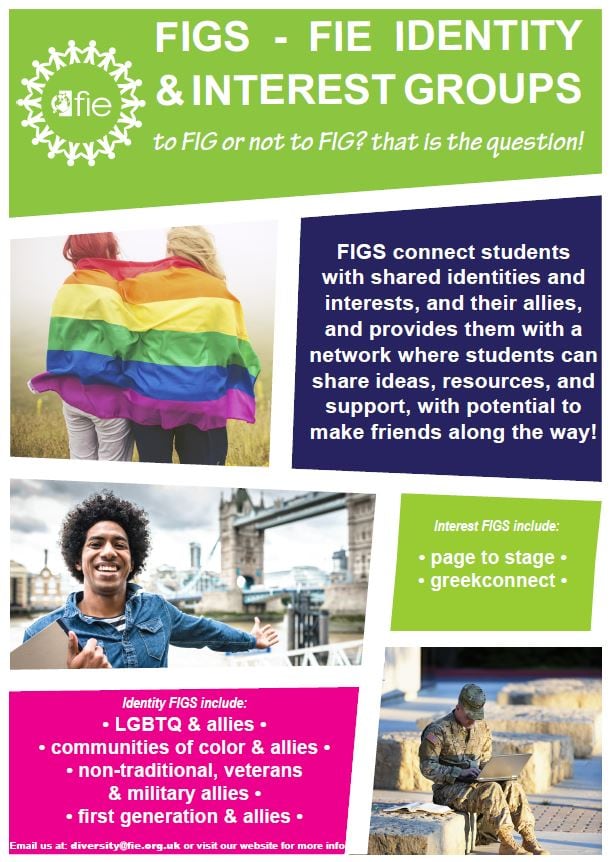 What is a FIG?
A FIG is an FIE Identity & Interest Group connects students with shared identities and interests, and their allies, and provides them with a network where students can share ideas, resources, and support, with potential to make friends along the way!
Identity FiGS include:
Communities of Color and Allies FIG
Non-traditional, Veterans, Military and Allies FIG
First Generation and Allies FIG
Interest FIGS include:
How do FIGS work?
FIGs are network groups let by an FIE staff member. Staff and student members can share information via the group. Students can reach out to individual students within the group or the group as a whole if they wish to plan meet-ups or other activities. A FiGS mixer will be organised during Fall and Spring semesters as an opportunity to meet other students.
How do I sign up?
Email us at This email address is being protected from spambots. You need JavaScript enabled to view it. to register your interest!
---
Based on your personal needs, FIE Team members are available to connect you to a variety of local organizations with a focus on ethnicity, culture, religion and orientation. Check out each of the links above for specific FIE staff contacts.
---
"Like" FIE's London and Dublin Facebook pages and follow us on Twitter to get alerts about opportunities to engage in a diverse range of events and activities.
For London students, Imperial College Student Union offers over 300 clubs and societies, including various cultural, faith, social and charitable groups. International Students House also holds events throughout the year.
Dublin students benefit from the international student services available at the university they attend while abroad, as well as the support of the professional staff at FIE.
---
SCHOLARSHIPS AND LONDON RESOURCE GUIDES
FIE has a number of FIE scholarships available to students worth $3,000, including a Diversity & Inclusivity scholarship route. We also highlight 'other scholarships' from other partners and organizations, as well as information about financial aid.
Students who are awarded a scholarship via this route produce, as one of their projects, a London resource guide which focuses on one under-represented group in the study abroad community and how this group can be best supported. The guides are London specific and help meet the needs of under-represented students arriving in the city for the first time. The guides can be found in the Virtual Student Lounge on MyStudy@FIE. NB: The guides and advice/views contained within are the work of the student and FIE holds no responsibility for the contents.
---
Diversity Abroad -

Resource for diverse and underrepresented students studying abroad

View London

- Events in the Capital

Meetup

- Shared interest events across the UK

1000 Londoners

- An insight into the lives of 1000 people who consider themselves to be Londoners, taking in all ages, religions, race, income, interests and opinions

Map

- demonstrating ethnic diversity of the UK, and London in particular

London passport map

- Artist Yanko Tihov's map of London diversity made from passport covers, showing the three or four most common non-British nationalities in every London borough, as documented in the 2011 census

Visit Dublin

- Ev

ents in Dublin

International Student House: A-Z Guide to London

-

Everything you need to know about being an international student in London
---
LIMITED FINANCES