Need to buy groceries/towels/toiletries/cell phones/sim cards? There are a plethora of stores in the local area, all a short walk, bus or Tube ride from your residence. See our handy guide for further information and a map of local stores!

WHEN WILL I FIND OUT ABOUT MY HOUSING PLACEMENT?

You will be notified of your housing allocation approximately one month prior to arrival via email.

CAN I MOVE INTO HOUSING EARLY?

Your housing is available for the duration of your program only and FIE cannot cater for early arrivals or late checkouts.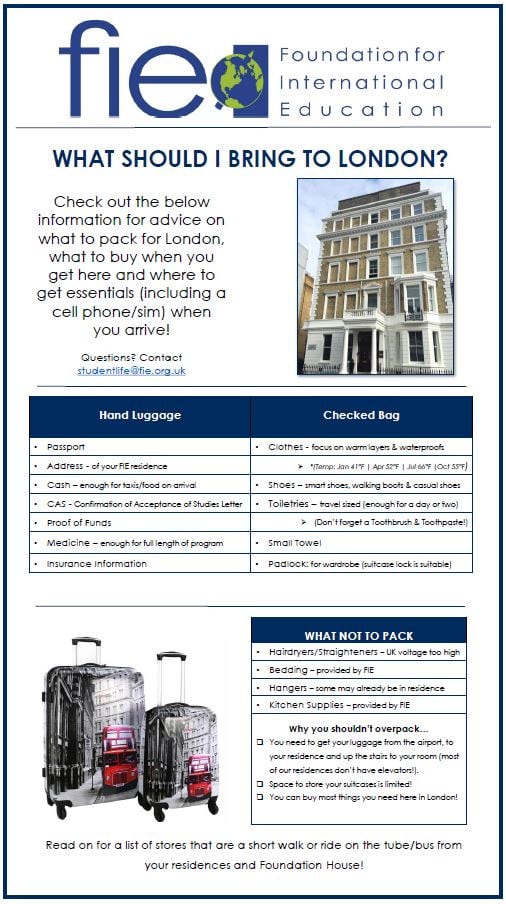 IS BED LINEN PROVIDED?
Yes. Bed linen is provided (fitted sheet, duvet, duvet cover, pillowcase, and pillow) and you may choose to have your bedding changed once a week.
---
WHERE IS MY RESIDENCE?
Most of the residences are located in the borough of Kensington and Chelsea, within 10-15 minutes walk to Foundation House and at least one of the following tube stations: Gloucester Road, High Street Kensington, South Kensington, or Earl's Court.
*Please note* that due to a significant increase in enrollment, some student groups may be placed in housing outside of the Kensington area. Just like students in FIE's residential buildings, students in new accommodations will be notified within 30 days of the program start date and given details of their housing placements. These additional residences are of high quality and boast excellent locations in the city, with only a slightly longer commute to FIE's Foundation House. Please contact our Director of Residence Life with any questions.
---
WHAT TIME CAN I CHECK IN TO MY RESIDENCE?
You will receive an email from our Department of Residence Life approximately 30 days before your arrival in London. Our "standard" check-in time is 10:00 am on your arrival date. However, this is subject to availability and could be as late as 2:00 pm on the day of your arrival. Therefore, a "safe" time to ensure you can get into your room immediately is 2:00 pm. You should plan to arrive at the airport no later than 12:00 noon on the day of your arrival to get through customs and to be at your residence.
---
CAN I STORE MY LUGGAGE WITH FIE BEFORE OR AFTER MY PROGRAM DATES?
FIE will NOT store your luggage for you before or after your program dates. If you are planning on traveling before, during or after your stay in FIE's residences, you may have luggage and/or items that you don't really want to drag along with you. Most rail, airline and coach terminals in London offer some sort of storage for luggage (often called "left luggage"). These facilities are generally operated by businesses that are independent of the stations, airports or Transportation for London, so be sure to pay attention to their terms of storage and particularly their hours as they may be different from the stations' or airports' (as in not open 24 hours, 7 days a week!). Please read your email regarding your housing assignment from our Department of Residence Life approximately 30 days before arrival.
---
WHERE SHOULD WE GO OUT ON OUR FIRST NIGHT?
We recommend that students stay within Central London on their first few nights before they become familiar with the city. For the first night, we suggest areas such as Covent Garden, Piccadilly, and Leicester Square where you will find a variety of bars, theaters, restaurants, and clubs.